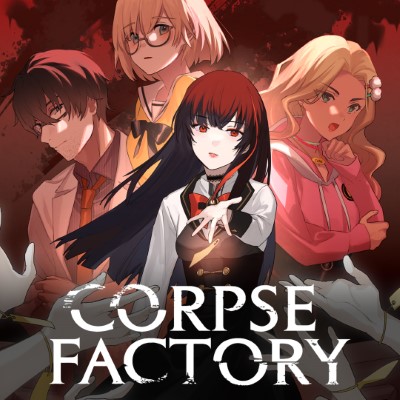 Description
CORPSE FACTORY is a psychological thriller visual novel, with full English voice acting performed by an all-star cast. Become part of the story and influence the ending of this spine-chilling tale. Immerse yourself in the darkness with an atmospheric original soundtrack, with a vocal performance by Emi Evans and music composed by Alec Shea.
iNFO
Release Year June 29, 2022
Genre Adventure, Simulation
Publisher & Developer RIVER CROW
Image Format NSP
Game Version 1.0
Required firmware 14.1.1


LANGUAGES
English


FEATURES
DISCLAIMER
This game contains scenes of violence, as well as depictions of mental health conditions such as severe anxiety and depression. It also deals with themes of suicide.
STORY
//TOKYO, IN THE NEAR FUTURE: Whispers and rumors are spreading through the city like wildfire. Murmurings of a bizarre website have started to pique the interest of more than a few people—people willing to take extreme risks in order to fulfill their darkest desires.
Corpse Girl's Website supposedly allows users to request the death of someone they know. All that is required is a photo of the proposed victim. Once an image is uploaded, the website promises to snuff out the victim's soul within a matter of days.
Victims of the website apparently receive a photograph of their own corpse before they are killed. Photos are time stamped with a date… Perhaps a predicted time of death? The website's authenticity is questionable at best. It has become an interesting topic of conversation and nothing more.
And yet… When people start dying in odd ways across the city, the website instantly returns to the limelight. All of the recent victims were found in possession of strange photos—photos of their own corpses, received only hours before they died…
FEATURES
+ Gorgeous anime artwork
+ Full English voice acting, starring Erika Harlacher, Faye Mata, Sean Chiplock, Brianna Knickerbocker, Aleks Le and more
+ A haunting original soundtrack composed by Alec Shea, with vocals performed by Emi Evans on the opening theme
+ Multiple endings
+ Unlockable image gallery
VOICE CAST
Erika Harlacher as Noriko
Aleks Le as Kojiro
Brianna Knickerbocker as Aoi
Faye Mata as Tomoe
Sean Chiplock as Shinya
Kaiji Tang as Junpei
Anairis Quiñones as Emi
Lizzie Freeman as Yuriko
June Yoon as Fujikawa
Aimee Smith as Kotomi
Alec Shea as Kenji


TRAILER



DOWNLOAD